Casings are available as extruded aluminum profile frames, welded and painted tubular carbon steel frames, welded tubular stainless steel frames, and welded tubular stainless steel frames for food applications for easy cleaning. Carbon steel casings can be powder-coated or painted with enamel or epoxy paint, and stainless steel casings can be provided in different qualities, such as 304 and 316.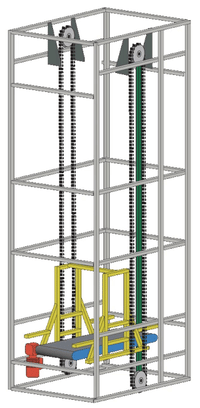 Safety cladding can be made of perforated aluminum sheets, steel sheets, clear plastic sheets, or safety glass. They protect your lift and product, and ensure a safe work environment. Perforated aluminum sheets, clear plastic sheets and safety glass are perfect to monitor your conveyor at all times.
All NERAK reciprocating lifts are equipped with generously dimensioned service and monitoring openings, and have removable covers for maintenance access.
NERAK reciprocating lifts conveyors in come pre-assembled segments ready for installation.